Finding the perfect gift for the traveler in your life can be a quest. That's why I am beyond excited to discover Crate Joy! It's just what it sounds like…a box full of the best kind of goodies to bring joy to your loved one every time it arrives on your doorstep. What kind of goodies exactly? Read on. Here is my curated list of the 17 best subscription boxes for travelers.
Best Travel Gift Boxes
So here's how it works: Crate Joy works with thousands of individuals all over the world to curate extraordinary product experiences all in one place.
Local businesses everywhere gain access to worldwide customers while you get magic in your mailbox. Plus, many of them donate a percentage of profits to a worthy cause which is just so awesome.
So you can easily connect to local artisans, support causes you believe in, and bring a smile to someone's face with every subscription you purchase. Win-win!
There are travel box subscriptions designed for women, men, children, and couples. There are boxes for foodies and college kids and gamers!
There are luxe boxes and boxes for people on a serious budget. (Some boxes ship monthly while others ship quarterly. Plus, you can order most boxes just once if you prefer to not subscribe.)
The sky's the limit here.
And honestly, when I think about all of the canceled trips and unsated wanderlust we've been experiencing this year, I just cannot think of a more unique or wonderful gift for travelers.
There are some really creative and popular subscription boxes for adults (and kids) here.
This is the perfect thoughtful gift for graduation, birthdays, Christmas, Mother's Day, Father's Day, and so much more.
1. Holiday in a Box for a Virtual Vacation
Straight from the UK, the Holiday in a Box delivers an incredible virtual vacation each month. It's perfect for foodies as it includes gourmet recipes and edible snacks, too.
Each box comes with activity cards like mini-language lessons and games. Recent boxes have included a rooftop cocktail recipe and a filmed cooking class in the Bangkok box and a classical music concert and Sachertorte recipe in Vienna.
Plus, you'll get travel tips, historical highlights, and quirky cultural facts. You can also request seasonal gift wrapping for your box as an upgrade.
Review: "Absolutely amazing experience. My partner is from Portugal and he kept saying how fantastic and authentic everything was."

—Verity
Check price and availability for the Holiday in a Box here.
2. Explore Local for American City Lovers
What could be better than exploring a new U.S. city each month? How about supporting the small businesses in those cities?
Explore Local lets you do just that with its curated box of premium, locally made artisan products and food. Fun facts and a watercolor map are included.
This is such a great way to lift the spirits of those who can't travel, too! Past boxes have featured Hamptons, NY, Moab, UT, and Philadelphia PA.
Review: "My wife and I love getting this box in the mail. The items are well thought out. The items are high quality and made from small business. I have even purchased more candy and salt directly from the manufacturers after getting it in our monthly box."

—George D.
Check out the Explore Local subscription box here.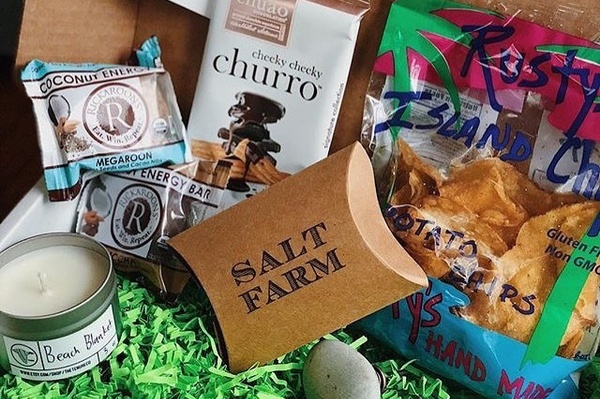 Read More on Gift Ideas for Travelers:

• 13 subscription boxes for international foodies

• The best travel gifts (49 ideas)

• Travel books every adventurer should read

3. British Baking Kit for Anglophiles
Who hasn't been drawn in by the mouthwatering confections on PBS' Great British Bake Off show? Now it's your turn to taste test some of Britain's best desserts.
The British Baking Kit delivers all the non-perishable ingredients you need each month to make one classic and delicious dessert.
The kit also comes with a step-by-step recipe card and complete history of the dessert. Disposable baking pans are included.
Past boxes have included ingredients to make a Banoffee pie (made with bananas, toffee and cream…perfect for tea), Eve's Pudding (a Victorian spiced apple cake perfect for winter), and individual Bakewell tarts (a sweet shortcrust pastry with a sponge cake and raspberry jam).
Review: "I never thought I could make such cool desserts! Novice and expert bakers alike will marvel at the delicious recipes provided. This is a perfect subscription box for anyone who loves to bake or those who would like to learn!"
—Bridget S.
Check price and availability on the British Baking Kit box here.
4. Escape the Crate for Adventure Lovers
Escape the Crate is the best…ever…time traveling adventure for the whole family!
You'll be decoding ciphers, letters, puzzles, and testing out sleuthing tools with a little help from the Internet. It's like an escape room experience but at home.
Past boxes have included themes like Escape the Rippers, Escape the Moon, and Escape the Games of Olympus.
Review: "The puzzles are well crafted, challenging, and a whole lot of fun. We enjoy the voiceover as it adds a fun dramatic/theatrical aspect to the game. Just upped our subscription to the full year, so excited to Escape the High Seas next!"

—Ashley R
Check prices and availability of Escape the Crate here.
5. Goddess Provisions for Your Favorite Goddess
Okay, so the Goddess Provisions gift box isn't actually travel-themed.
But I ask you…What woman doesn't need a little more goddess support right now after the year we've all had? Am I right? So this box had to make the list.
I'm pretty sure self-care is something we can all benefit from. So imagine the delight when this monthly box arrives with five to seven full-size vegan, natural, and cruelty-free products to nourish your favorite goddess.
Each box includes a mix of crystals, aromatherapy, natural beauty products, superfood snacks, and spiritual tools.
Review: "So many items from Goddess Provisions box go to my treasure box.
I definitely recommend this box, and I wish they have biweekly subscription!! I can't wait for the next box every month!!"

—Madoka H.
Check out the Goddess Provisions box here.
6. WanderKarma For Local Artist Lovers
This wonderful monthly box, WanderKarma features beautiful handmade items from around the world.
It includes three to five items from the featured country, including fair trade jewelry, handbags, and home decor. Plus, it includes a travel guide to that country to inspire your wanderlust.
For example, the recent Greece box was all about Greek culinary delights, including Greek honey, olive oil, and sea salts and supported Refugee4Refugees on the Greek Islands.
The Rwanda box, with handmade jewelry, was all about female empowerment, donating to causes that lift women out of domestic violence and sex work.
Review: "I have LOVED every single item in every box. The quality of items are just amazing. Each box comes with printed information about where your goods have been hand crafted and a little bit about the people who are making the items."

—Amy H.
Check prices and availability for the Wanderkarma box here.
7. Goodies from around the World for the Adventurous Foodie
Every month, you'll receive a snack-packed box of joy from a featured country. It's like traveling without the plane ride.
Each box includes 10 or more authentic and tasty snacks along with a postcard about the featured country.
Past boxes have included treats fro Greece, Taiwan, Brazil, Turkey, Ireland, Thailand, and so many other countries.
Review: "We had so much fun with our first box of international treats, and we can't wait until next month. It will be a fun surprise every month to enjoy without using my passport!"

—Jasmine T.
Check prices and availability on the Treats subscription box here.
8. Gusto di Roma for Italy Lovers
Who does not love gourmet Italian fare? The delicious Gusto di Roma delicious monthly box sources both sweet and savory treats from all over Italy. No cooking required.
If you're looking for monthly subscription boxes for food, this is a win.
You'll nibble on biscotti from Tuscany, olives in sea salt brine from Abruzzo, grilled vegetables in extra virgin olive oil from Calabria, and pistachio cream and chocolate bars with cinnamon from Sicily. Yum!
September's box was all about olives and cherry tomatos. October's was espresso and biscotti. November was sauces and salami.
Everything is non-perishable so you can also break it out for a dinner party when we can someday have dinner parties again.
A detailed insert includes serving descriptions and suggested pairings.
Review: "Want a mini mental Italian vacation picnic from the comfort of home? Look no further than Gusto di Roma. It brings all the comfort foods and tastes that made your Italian vacation so special."

—Asato M.
Check prices and availability on the Gusto di Roma box here.
9. Locks Box for Lavish Hair Goodies
If the traveler in your life is female, she is going to love the Locks Box.
It's full of cutting edge and cult brands for all things hair care…in travel size bottles. (Not those little bottles that never have enough either.)
This box ships spring, summer, fall, and winter (every three months) with a seasonal selection of salon-quality shanpoos, conditioners, hair masks, and other goodies so you can try out different products before spending on a full size bottle.
Each shipment includes extra items like hair accessories, a shower cap or a detangling brush for extra fun.
Review: "Really I have no words. Let my 5 ⭐️ stars speak for themselves, if I could give more stars I would. And the customer service is top notch, you couldn't ask for a better team."

—Dawn R.
Check prices and availability on the Locks Box here.
10. Exotic Noodles for Ramen Lovers
The best way to sample delicious specialty noodles from around the world? If you can't hop on a plane to Asia, get a premium ramen noodle subscription.
Exotic Noods curates the best of the best for you. From buckwheat to air-dried and udon, each monthly delivery comes with at least three flavors or styles…all taste-tested by the team at Exotic Noods before they make the cut.
You'll find broth like Tonkotsu, Spicy Seafood, Shio, Misio, Shoyu and more. You can choose from four packs or bowls…or go all in with a deluxe package that includes both for a total of eight selections.
Review: "Received a box of a variety of packs of noodles and I'm beyond impressed. If you love ramen, need that quick fix, and looking to try something new, Exotic Noods is where it's at."
—Ashlee N.
Check price and availability of the Exotic Noods Box here.
11. Culture Cakes for Bakers
Here's another fun project with kids: Bake an exotic cupcake recipe from around the world.
Each Culture Cakes kit features a cultural fusion cupcake recipe, cool baking tools, 1 to 3 exotic ingredients and baking supplies, and a recipe to turn into an exotic cupcake. Plus, there are themed snacks.
Culture Cakes sold out of their Germany kit in September. In November, bakers traveled to Sweden for Glogg cupcakes and plenty of Nordic snacks.
Review: "Our second box was exactly what I was hoping for! Such a fun and unique way to learn about cultures around the world. It's hard to find projects to do with my tween that she enjoys, but are also educational. This totally fits the bill!"

—Courtnei M.
Check prices and availability for the Culture Cakes kit here.
12. Laurel & Reed for Luxe Beauty Product Lovers
The Laurel & Reed monthly gift box is one of the most highly rated boxes on Crate Joy with all five-star ratings. That's because it includes incredible top tier beauty products that always non-toxic and cruelty-free.
It's the perfect way to reward yourself or someone you love who values self-care. Each beautifully gift wrapped box includes three full-size products.
And you'll save more than 50 percent on those products through Crate Joy.
Review: "Wow! Quality is right. The presentation is pure luxury. I feel special from the beginning when see the black bow. You will too. The products are superior in their class. Gotcha. I was blown away."

— Shannon B.
Check out the Laurel & Reed box here.
13. Free Your Tea for Tea Lovers
Not to worry if your giftee is not a coffee drinker. The Free Your Tea gift box offers a personalized monthly subscription for premium loose leaf tea. You select your preferences and then rate the teas for fine-tuning your subscription.
Last summer's tea sampler included hot teas for mornings and cold brewed ice teas for evenings with a mix of herbal and black teas.
A recent Fall selection included a mix of Golden Assam, Rosy Early Grey, Moroccan minut and Chcoloate Pu-Erh.
This is the ideal gift for the sophisticated tea lover…and gift giver on a budget as this box is just $16 monthly. It's a cheap monthly box for the value.
Review: "I love giving Free Your Tea subscriptions as Christmas gifts. I love that it is unique and allows the recipient to try new teas. I know they take tea seriously!"

—Daniel E.
Check prices and availability on the Free Your Tea box here.
14. International Wine of the Month Club for Wine Lovers
You can choose either a three, six, or 12-month subscription when you sign up for Crate Joy's International Wine of the Month Club.
Each month, members receive two premium bottles of wine from two different award-winning boutique vineyards around the world.
The box also includes complementary recipes for food pairings, tasting notes, and a profile on the wine makers.
Plus, you can order additional bottles of your favorites at a big discount. Choose two reds, two whites, or one of each. (Here are even more gift ideas for wine lovers.)
Check prices and availability on the International Wine of the Month Club here.

Review: "I give this three month subscription as a gift to my mom every mother's day and birthday and she loves it! She says she's neve seen the same wine twice, that they are beautifully packaged, and that they are all delicious!"

—Kendall P.
15. Life's a Wave for Beach Lovers
Is the ocean lover in your life feeling a little land locked lately? There's just one remedy until planes are safe again: Bring the beach to the ocean lover.
The monthly Life's a Wave Beach box is filled with eco-friendly ocean, mermaid, and otherwise beachy vibes. From home decore and self-care products to candy and soaps, this box is beloved around the globe.
Recent boxes have ranged from the summer fun box to the quarantine beach box.
From sea glass wind chimes and coconut lip gloss to a pineapple kimono and a mermaid dish, this is a feel-good box that brings the ocean in.
Review: "The most amazing, fun-filled, therapeutic box I have received to this point. It's beyond what I expected and I am so amused by the goodies not to mention the salt lamp! Keep on doing what you're doing. Thank you, thank you, thank you."

— Susan G.
Check out the Life's a Wave box here.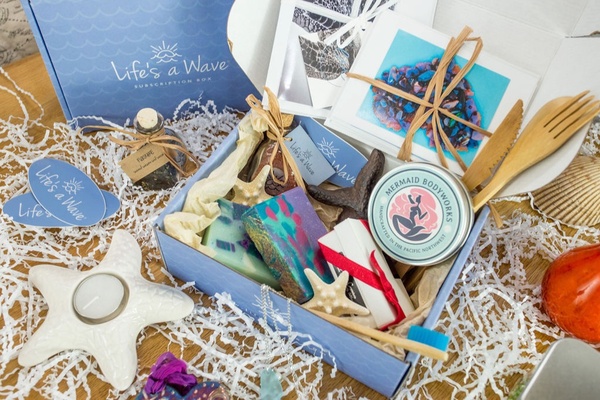 16. Spice Madam
Crate Joy's Spice Madam monthly box was awarded the best global spice, recipe and culture subscription box for a reason. It has rabid fans!
Every month Spice Madam will take international foodies on a spice adventure to a featured global destination.
What a great home schooling or date night adventure. Or way to build excitement for an upcoming trip.
Recipients will receive spices and spice blends from each destination along with 5 to 6 recipes (vegetarian and gluten-free) to feed up to 8 people and a themed music play list.
Best of all, each box supports a non-profit for youth education.
Review: "This is my go-to gift this year – all our friends are getting a subscription because it's THAT good! We've already tried Morocco, Japan, Pakistan, Greece. What's next? Can't wait……"

— Tim J.
Check prices and availability on the Spice Madam box here.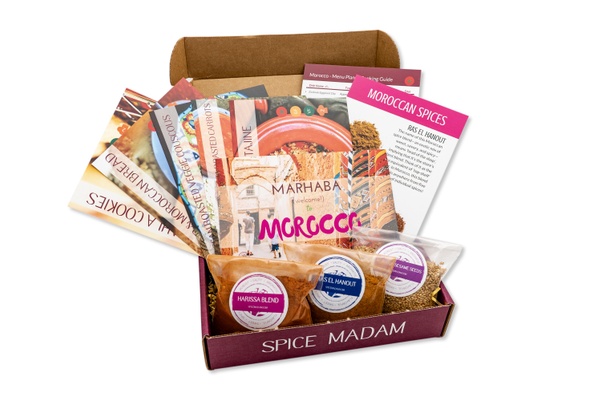 17. Happy Glamper for the Outdoor Diva
The motto at Happy Glamper is "Becoming one with nature shouldn't have to involve suffering." This is pretty much my life motto so sign me up!
Every monthly box includes 4 to 7 travel essentials to glamp in style because who wants puffy eyes around the campfire?
Think jewelry, accessories, and even some outdoor-themed home accessories for staycations.
One recent box included travel compression cubes with original Colorado artwork and a Florida adventure bracelete.
The May "Around the Campfire in Ashville" box showcased handmade products by local moms at the Ashville Tea Company.
Review: "Lovely box with great items for traveling of all types. I look forward to using the packing cubes when we fly this summer. My daughter and I argued over the bracelet. Loved the variety and quality of items!"

— Christy P.
Check prices and availability on the Happy Glamper box here.
Like this post? Pin it for later!