Do you have a traveler in your life? If you're looking for fun travel gifts…something every traveler needs… the perfect book for wanderlust…or a gadget to streamline a trip, you're in the right place!
This is a very comprehensive list of unique travel gifts—gifts travelers will actually want—with plenty of inspired options for every budget.
Best Gifts for Travelers 2024
Travel Keepsakes
1. Travel Tokens from The Wander Club
Help your favorite traveler keep his or her favorite travel memories alive. The Wander Club lets you personalize a leather token holder by collecting engraved tokens for every U.S. national park, U.S. state or country visited around the world.

Or…add oceans and landmarks like the Colosseum or Machu Picchu. The token holder works perfectly as a key chain or clipped onto a backpack.

Returns are hassle-free. Best of all, The Wander Club donates one meal to a needy child at orphanages through for every order placed. So yep, you are literally solving world hunger with your purchase.
You can order a token holder and engraved tokens at Wander Club here.
2. Food Art from around the World
If you're looking for a beautiful, original—and affordable—gift for your favorite traveler, look no further than the hand-drawn typographic print maps of foods from around the world from Legal Nomads blogger Jodi Ettenberg.

These gorgeous frame worthy maps are printed on museum-grade, acid-free paper and will look stunning in your favorite traveler's kitchen.

Choose from food maps of Thailand, Vietnam, Italy, Mexico, Portugal, Japan, and Canada, in either black or white for a classic look. Or choose a t-shirt or tote!

Best of all, if you're someone who appreciates knowing that your purchase makes a difference, you can feel good about the fact that 100 percent of the proceeds are supporting Jodi, a former digital nomad whose life has been derailed by a freak spinal leak after a medical procedure.

Being the kind, curious, and engaged individual that she is, she was recently appointed a member of the U.S. Spinal CSF Leak Foundation Board of Directors to help advocate for others with this condition.

You can order one of Jodi's original food art posters, t-shirts, and totes here.
3. Travel Scratch Map
What could be better than a map prominently displayed to keep track of where your favorite travel has been and inspire her next travels?
Everyone loves a travel scratch map so it's the perfect if you're in search of travel themed gifts.
So bring on the memories while revealing brightly colored countries and landmarks with every scratch. Comes with a bonus US scratch map.
You can order a travel scratch map on Amazon here.
4. Travel Journal
We live in an age where digital words are ephemeral. But there's just something soul-satisfying and timeless about capturing our experiences on real paper with a real pen.
Enter the travel journal. This one is a handmade leather notebook with 120 ruled pages.
Or, if you like the idea of a mermaid gracing the cover, buy this one on Amazon.
Cool Travel Gadgets & Electronics
5. Luggage Scale
Have you ever arrived at the airport after (what you thought was) smart packing only to find out your bag was over the limit for carrying on?
Or you'd planned to check it, but now it was going to cost an additional $50 or (yikes) $100 due to weight? Ugh!
A luggage scale makes the perfect Hanukkah or Christmas gift for someone that travels a lot! And the HotLife portable is super easy to use.
Just strap it on your luggage, pull up, and you'll know how much your bag weighs. It converts easily between pounds and kilograms with the press of a finger.
It's also lightweight! Just pop it into your travel tote or purse to weigh your bag before you head home after your trip.
(I don't know about you, but this is my danger zone for overpacking. I love to bring a few special bottles of wine home for sweet memories on a special occasion later.)
You can grab a luggage scale on Amazon here.
6. A Camera for Travel Shots
I adore my Sony Alpha a6000 mirrorless digital camera! Mirrorless cameras make great travel partners because they're lighter to carry.
It can take a little while to master the many controls on this camera, but it's also easy to use the automatic settings while you learn.
This camera also comes as a kit, with everything you'll need. It's the one I bought myself.
If you go this route, you'll pay just one price, but in addition to the camera, it comes with a 16-50 mm lens, a memory card, two replacement batteries, a camera bag, a cleaning kit, a card reader, and even a tripod.
Or, for aspiring photographers, consider upgrading to the kit with the 55 to 210 mm lens. You can check out the Sony a6000 camera here on Amazon.
Still not sure about the perfect gift? Get an Amazon eGift Card!

Some people are just plain hard to buy for! You can never go wrong with an Amazon gift card.

You'll choose a gift card design, amount, and email delivery address.

Boom! Done.
7. Portable Travel Charger
This portable phone charger was a serious game-changer in my travels! It's a very cool travel gift. In fact, I've actually been keeping it in my purse when I'm out and about all day later…even when I'm home.
You know those times when you look down at your phone after taking photos all day on a trip and realize (gulp!) you're down to 12 percent battery? No worries!
This baby charges an iPhone14 up to 40 percent in 30 minuts.
And then they'll get up to five full charges out of it for a cell phone. (Serious lifesaver when killing time during flight delays or airport layovers.)
You can get yours on Amazon here.
Looking for a super unique and creative gift?

Consider a monthly subscription box designed just for travelers by Cratejoy. (Plus, you can purchase them on a one-time basis.) Choose from "Holiday in a Box", "Explore Local", "WanderKarma" and so many others.

Cratejoy offers monthly and quarterly subscriptions for every budget and type of traveler. The icing on the cake? You'll be supporting local artisans and businesses…many of whom donate a percentage of their profits to some incredible causes.

If you're looking to inspire sheer delight for someone with insatiable wanderlust, head over to my post on the 19 best travel box subscriptions.


8. Noise Cancelling Headphones
These noise cancelling headphones are a literal sanity saver for long, noisy flights. On one of my international flights recently, an unhappy toddler managed to set off a group crying jag of small children, but did it disrupt my napping and movie watching? Heck, no!
I was enveloped in surround sound audio quality thanks to these noise-canceling headphones.
When you're ready to watch a movie or listen to music, you just flip the noise-canceling switch and you will feel like you're alone in a high-end theater with surround sound. There's a reason Bose is so recognized for sound quality.
A truly amazing gift for travelers! Check out these Bose headphones on Amazon here.
9. Portable Bluetooth Speaker
So she has booked that sweet beach rental or urban oasis, but does she have tunes? That's where the Anker SoundCore portable Bluetooth speaker comes in!
This is a great value for such high-quality audio power. A patented bass technology and advanced digital sound processor delivers pounding bass and zero distortion at any volume.
This speaker is also "outdoor proof." So no need to worry about rain, dust, snow, or spills! You can nab one for your favorite traveler on Amazon here.
10. E-Reader
As much as I love to hold a real book when I read, bringing an e-reader instead is one of the easiest ways to reduce the weight of my carry-on.
So if you're gift buying for a traveler who doesn't yet own one, this is the very best gift!
A Kindle makes a great choice as it's far less expensive than an iPad and unlike an iPad, it includes an adjustable front light that allows you to read both inside and outside, day or night. A battery charge lasts weeks!
Plus, it comes with a three-month subscription to Kindle Unlimited, where you can browse up to 10 titles at a time with no due date.
You can check out Kindle here on Amazon.
11. Cord Keepers
Most travelers have experienced the frustration of too may unruly cords that seem to defy organization. There's the laptop cord, the phone cord, the earbuds cord, the blow dryer cord, and on and on.
But there's a simple solution: Get a cable organizer. These crazy horse leather cord keepers snap shot with a rustic metal button, proving that the best products do deliver on form and function at the same time.
If you're looking for a small travel gift, consider cord keepers.
You can get this fantastic stocking stuffer on Amazon here.
12. Binoculars
Are you looking for a gift for someone who is headed out on a safari or a hiker who frequents the national parks? Consider a set of binoculars.
We finally upgraded our binoculars after borrowing a family members' pair for our trip the San Juan Islands for spotting Orcas in the Salish Sea.
Sure, the person on your gift list may have a pair knocking around in a drawer somewhere, but you will be astonished at the clarity offered by the Vortex Optics Diamondback HD bincoulars. (We bought the 10×42 size.)
They're super user-friendly and equipped with premium glass for a sharper, cleaner, and more brilliant field of view.

Plus, Vortex is renowned for their "no questions asked" warranty policy. You can read all the reviews and buy a pair on Amazon here.
13. GoPro
I finally broke down and got my first GoPro a few years ago when I was headed to New Zealand for a wilderness cruise in Doubtful Sound.
Since then, I've taken it snorkeling in French Polynesia and hiking in Hawaii, among other places.
It's not just for youngsters! GoPro is EASY and fun to use. I have even bumbled my way through several video edits in just 10 minutes…like the one here from when we snorkeled with sharks in Moorea!
And that's why it's one of my favorite gift ideas for a traveler.
To maximize GoPro fun, you may want to also add a head strap and GoPro QuickClip for hands-free snorkeling. You can get GoPro's officially recommended mount here on Amazon.
14. Universal Travel Adapter with USB
This one's on my personal list for 2020!
Chances are good that the traveler in your life has a whole slew of international adapters he or she keeps in a drawer.
This requires rummaging through them to find the ones he needs depending on if he's headed to Japan or France.
Everyone loves this universal travel adapter because its four retractable plugs work in 170 countries.
Plus, the four USB ports can charge all devices at the same time! It even comes with a money-back guarantee. It's a no brainer!
Pick up a universal travel adapter on Amazon here.
15. Selfie Stick
There's a reason selfie sticks are as popular as they are!

It's the best way to capture that perfect photo without getting that weird angle holding your own phone or having to ask a stranger to take your photo. It's perfect for group shots and solo travelers, too!
This one is like a selfie stick on steroids; it can grip a cell phone or camera, has a built-in tripod, a remote control button, and it telescopes, too!

The tripod can extend 8 to 40 inches for convenient videoing and FaceTiming. Plus, it's compatible with most smart phones and works with a wireless connection up to 10 meters.
You can check price and availability on the Selfie Stick here.
Best Travel Gifts for Women
16. Jewelry Organizer
When it comes to storing jewelry for travel, the best solution is soft, lightweight, and super functional. That's what makes it one of the best travel gifts for her.
Bagsmart's travel jewelry organizer roll is all of these! Maybe that's why it made the list of Oprah's Favorite Things.
It's foldable with separate storage designed for necklaces, bracelets, earrings, and rings.
The invisible zip pouch makes it easy to see what's stored inside. You can buy this organizer in either a small or large size and choose from eight different patterns and colors. WIN!
See the Bagsmart travel jewelry organizer on Amazon here.
17. Goddess Provisions
I ask you…What woman doesn't need a little more goddess support right now after the last few years we've all had? Am I right?
I'm pretty sure self-care is something we can all benefit from in the current moment. So imagine the delight when this monthly box arrives with five to seven full-size vegan, natural, and cruelty-free products to nourish your favorite goddess.
Each Goddess Provisions box includes a mix of crystals, aromatherapy, natural beauty products, superfood snacks, and spiritual tools.
"So many items from Goddess Provisions box go to my treasure box.
I definitely recommend this box, and I wish they have biweekly subscription!! I can't wait for the next box every month!!"

—Madoka H.
Check out the Goddess Provisions box here.
18. Travel Hair Dryer
I do my best to avoid schlepping along a hairdryer whenever possible on my trips. Most hotels have one!
But some Airbnbs and VRBO rental properties don't include them. (I'm looking at you, recent Maui vacation rental.)
Same problem with glamping, camping or other adventure locales where you're outside all day but want to warm up or glam up at night.
For those that like to travel with a hairdryer to ensure there is one available, it's important to find one that is lightweight and foldable.
Bonus points for dual voltage so it doesn't short circuit when you use it in Europe (if you're from the US).
The Connair MiniPRO delivers here on all fronts. It's foldable, offers all the power of a full-size blowdryer without the weight, and is dual voltage. Plus, it fits in the palm of your hand!
Get the Connair miniPRO travel blowdryer on Amazon here.
19. Infinity Scarf with Pocket
Every traveling woman needs an infinity scarf with a secret pocket. Why? It's one of the very best ways to keep her passport, key, money, and iphone hidden from thieves!
Skip the money belts. They're cumbersome to manage on the go, but infinity scarves are easy.
This one is a soft convertible scarf with a zippered pocket. And it comes in plenty of colors. This is one cute travel gift!
You can order an infinity scarf on Amazon here.
20. Travel Document Organizer
Women love this travel document organizer. Just read the thousands of glowing reviews on Amazon.
Why? It's a roomy, vintage-looking tri-fold wallet that opens flat so that it's easy to find everything she needs quickly. It's also about the size of an iPad mini, making it easy to store in a purse or backpack.
And its RFID blocking shield keeps thieves from electronic theft. Plus, it comes with a passport pocket, boarding pass compartment, three credit card slots, a slot for tickets, a pouch for cell phone, a key holder, and a pen pocket.
You can get a travel document organizer on Amazon here.
21. Personal Security Door Alarm
Are you buying for a woman who travels solo? I love to travel on my own, but I also like to feel secure when I'm staying alone. That's where this handy and compact little door alarm comes in.
Just place it at the base of any door and if anyone tries to open said door, they will be greeted with a LOUD alarm. No complicated install required. It's not a lock as much as it is an alert and a deterrent.
You can buy a personal security door alarm on Amazon here.
22. Detangler Brush
This silly plastic detangler brush is one of my must-have travel tools! If you're looking for a cheap travel gift for a woman with color in her hair or frizz, this is the ticket. She will be so happy she has this little brush.
I'm not sure exactly how it works so well, but it effortlessly pulls out tangles without any pain.
And since I'm typically in a rush to squeeze the most time out of my days at a travel destination, it means I can be out of the shower and in a ponytail in no time flat.
23. Travel Purse
When you travel, you need every item to count! That's why the best purses for travel should be lightweight, secure, and super functional.
Beyond that though, it's a question of style, durability, and personal preference.
The options can be overwhelming, however, which is why I wrote a comprehensive post on the best travel purses recently.
If you're looking for a stylish travel purse with anti-theft features, I recommend the Travelon Anti-Theft Classic Mini Shoulder Bag.
This bag features slash-resistant body construction as well as slash-proof adjustable shoulder straps and RFID blocking (to avoid electronic theft of your ID and credit cards).
At just 10 ounces, this little bag still holds a lot without pulling on tired back or shoulder muscles. You can get the Travelon bag on Amazon here.
Best Travel Gifts for Men
24. Explore Local Subscription Box
What could be better than exploring a new U.S. city each month? Cratejoy's Explore Local monthly subscription box lets you do just that with its curated box of premium, locally made artisan products and food.
Fun facts and a watercolor map are included. It's one of the best travel gifts for him.
This is such a great way to lift the spirits of those who can't travel, too! Past boxes have featured Hamptons, NY, Moab, UT, and Philadelphia PA. It's a great way to support small local business.
Check out the Cratejoy Explore Local subscription box here.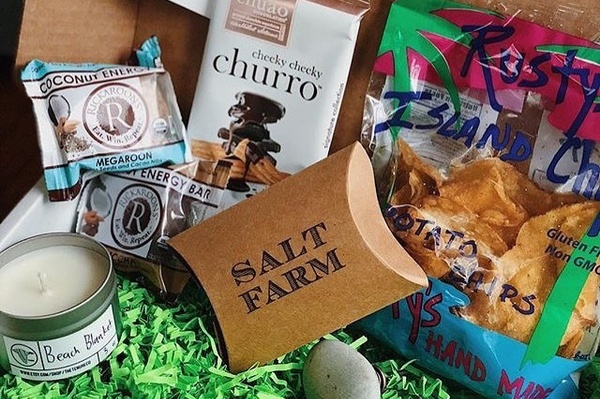 25. Electronics Organizer
It's challenging when a guy is on the move hopping from hotel to hotel to keep track of all those phone chargers and devices! Not to mention batteries he might need or mouse for his computer.
Bagsmart is everyone's favorite electronics organizer. Not only is it made out of water repellent nylon with well-padded covers, but its two-way zipper closure makes it easy to get in and out of the bag.
You can check it out on Amazon here.
26. TSA Compliant Multi-Tool
Leatherman makes the ultimate multi-tool and there are many versions of them! But the Leatherman PS is the one you want if your favorite traveler doesn't want to check a bag.
There's no blade in this multi-tool. That's because it was designed with TSA carry-on guidelines in mind.
It's the ultimate pocket-sized tool, including needlenose and regular pliers, spring-action wire cutters and scissions, a flat and Phillips screwdriver, tweezers, nail file, and a bottle opener.
It also comes with a carabiner to hook on a belt loop if his hands are full.
You can pick up a Leatherman PS keychain multitool on Amazon here.
27. Pack-It Flat Toiletry Bag
Good travel gifts make things easy. That's why the best toiletry bag is lightweight, waterproof and durable. And truthfully, this one works well for both men and women.
This is the one I personally use because it fits well in a carry on size suitcase. (If you use three packing cubes as I do, you'll have one spot left for this toiletry bag.)
There are four separate compartments so it will be easy for him to find his toothbrush, liquids, and shaving supplies without too much digging around.
Plus, he can hang it on a door for even easier access.
You can get a pack-it flat toiletry kit on Amazon here.
28. A Personalized Leather Hip Flask
Get your whiskey-loving man a travel flask! This classic stainless steel flask is wrapped in leather and comes with a funnel for easy pouring.
When you order, you can get it engraved with the initials of your traveler for a truly personalized gift. This is one of the best unique gifts for travelers for sure.
You can order a hip flask here on Amazon.
29. Carry On Cocktail Kit
Sticking with the alcohol theme for a moment, let's make those long flights more bearable and fun! Cocktail kits make such thoughtful gifts for the traveler or stocking stuffers at the holidays.
They're TSA approved and come with the ingredients of your favorite drink. Choose from Moscow Mule, Old Fashioned, Champagne, Gin & Tonic, and more!
You supply the booze and everything else is included.
You can get a cocktail kit on Amazon here.
30. RFID Wallet
What is RFID exactly and why does the man in your life need it? RFID stands for "radio frequency identification." It's electronic theft, essentially.
Once, at LAX airport, someone approached us with questions about how Uber worked as they asked us to show them on their cell phone.
We think what was really going on is they were attempting to electronically skim credit card info from Steve's pocket (especially since they moved on to ask a next person their questions and ultimately headed back into the terminal).
You can protect yourself by carrying a wallet or purse that blocks RFID. This one is a slim front pocket bifold wallet in genuine leather. No frills.
You can get an RFID wallet here on Amazon.
31. Travel Coffee Press
Is there anything worse than lack of easy access to that first cup of Joe on a trip? I think not. And I know this because Steve gets panicky if he has to wait hours until breakfast for his first cup.
If you have a serious coffee addict in your life who travels, then they need this travel coffee press. It makes an ideal travel-inspired gift. Here's how it works: It's essentially a stainless steel travel mug that is also a French Press.
Add the coffee grounds, then water, wait four minutes and plunge. Voila! A fresh cup of perfect coffee.
You can get a travel coffee press here on Amazon.

Best Travel Gifts for Couples
32. Headphone Splitter
One of the best antidotes to long plane flights is the opportunity to share downloaded movies or music on your phone with a headphone splitter.
The Belkin RockStar 5-Jack Multi Headphone Audio Audio Splitter is a traveler favorite.
It comes with five jacks for attaching headphones or MP3 players. And it even offers independent volume control so each individual can set the volume at the level they prefer.
You can get a headphone splitter here on Amazon.
33. Luggage Tags
Help that traveling couple identify their bags easily with matching monogrammed luggage tags!
These beautiful genuine leather luggage tags are foil stamped with the recipient's initials. You can personalize them when you purchase.
Each luggage tag comes with a secure and adjustable buckle and a matching RFID passport cover to guard against electronic theft. Available in 19 colors.
You can order these personalized luggage tags here on Amazon.
34. Travel Picnic Kit
One of my very favorite things to pack is our set of Fozzils picnic set! Each set comes with a cup, bowl, and dish that lay flat for packing but snap together easily for impromptu picnics on the road.
By limiting restaurant meals to once a day, you can really stretch your travel dollars. I always bring my picnic kit when I'm packing for island travel, where food can be expensive.
We'll typically enjoy a picnic dinner of whatever cheeses, meats, and pastry treats we've collect at outdoor markets, pulling over for a stunning vista or sunset.
Highly recommended. And also great for backpackers since these are so lightweight.
You can get a Fozzils picnic set on Amazon here. (Buy two sets if it's for a couple.) And you'll probably want to pick up one set of "sporks" (fork + spoon) while you're at it.
Travel Essentials
35. Luggage
I bought this luggage last year and loved it so much I gifted two sets to my son and his girlfriend recently for their first trip to Spain.
It can be overwhelming to look at all the luggage options, but my first considerations are always weight and carry-on compatibility.
I almost always carry on luggage for a trip to hit the ground running (and check my baggage on the way home stuffed with goodies).
Since my goal is to maximize what I can take without exceeding the weight limit, I need a bag that is light.
The Delsey Paris Helium carry-on luggage is just the ticket, it's lightweight titanium…even though it is a hard-sided luggage case and is made from durable 100 percent polycarbonate with spinner wheels for easy mobility.
Plus, it expands up to two inches for additional packing space
It has a fully lined interior with zippered dividers and a recessed TSA-accepted combination lock.
This beautiful case by Delsey—a Paris-based luggage company renowned for quality—looks far more expensive than it is. Choose from a metallic blue, gray, or pale pink.
You can check out the Delsey Carry-on Spinner luggage here on Amazon.
36. Packing Cubes
Have you used packing cubes? For the longest time, I didn't really see the point…until I tried them. They're another game-changer.
Now I roll my clothes and usually take three cubes plus the pack-it-flat bathroom bag described above.
The best part is that clothing and other suitcase items stay soooo much more organized once a traveler arrives at their destination. No more rifling through everything you brought to find that one item he needs.
If your traveler travels with other family members, consider getting each individual their own color of cubes so everyone knows whose stuff is whose.
This is one of my favorite gifts for people who travel.
Packing cubes are the best! Get some on Amazon here.
37. Travel Umbrella
I always carry a travel umbrella in one of the pockets of my daypack.
Having a light rain shell and travel umbrella makes all the difference between being unexpectedly soaked and unhappy versus rolling with the bad weather and still enjoying an incredible day out.
What you want here is a windproof umbrella. No one wants to fight a wayward umbrella that's determined to be inside out.
The Repel Windproof Travel Umbrella is compact, lightweight, and easy to open. It had me at "wind-defying 9-rib construction."
You can pick up a travel umbrella on Amazon here.
38. Turkish Towel
Turkish towels are amazing. This towel is not fluffy like a bath towel; it's super absorbent, very soft and dries in no time. Extremely packable.
It's one of the best gift ideas for the traveler. Especially if they head out on beach vacations or resorts with a pool.
There's no better towel for travel! Get your traveler's your new favorite towel here on Amazon.
Best Adventure Travel Gifts
39. Filter Water Bottle
If your traveler likes to venture to further afield…to, say, Asia, or the Australian Outback…backpacking or fishing/camping/hiking in remote areas…he or she desperately needs an excellent filtered water bottle to avoid parasites.
You do not want Giardia or E. coli to accompany you on your travels! Hardcore adventure travelers swear by the Grayl Geopress Water Purifier Bottle.
Here's why: At 24 ounces of capacity, it's big enough to keep a traveler hydrated while still not being cumbersome to carry.
Plus, it's easy to fill from any tap without straws or pumps. Just clean, clear water that is 100 percent safe.
You can get a Grayl Geopress Water Purifier Bottle on Amazon here.
40. First Aid Kit
A first aid kit is one of those things that seems like overpacking…until it isn't!
It's true that I am pretty klutzy and usually taking a tumble somewhere because I'm looking up at architecture or trees instead of where I'm going, but I've had plenty of times when I wished I had a first aid kit.
Keep your favorite traveler safe by ensuring he has this lightweight little kit in his or her backpack.
This one covers all the basics and takes up minimal space. You can get it on Amazon here.
41. LED Headlamp
If you're buying a gift for a traveler who is a hiker, climber, likes exploring caves, ancient cave art in France, or other adventures in the dark, get them a powerful but lightweight headlamp!
The Black Diamond Spot 325 Headlamp is a traveler favorite because it's got a low profile design and is powered by just three AAA batteries.
Plus, it can toggle between various levels of brightness and is waterproof-tested.
It can be operated at at least 1.1 meters underwater for up to 30 minutes. You can get the Black Diamond headlamp on Amazon here.
42. SteriPen
If your adventure traveler will be cooking in those remote locations, consider gifting him or her a SteriPen.
It looks a little like a bottle of nasal spray but is effective at sterilizing 99.9 percent of harmful microorganisms.
The SteriPen Ultra will deliver 50 water treatments per charge (equal to about 15,000 liters). Then it can be simply recharged with a USB port from a computer, wall or solar panel.
You can get the SteriPen Ultra here on Amazon.
43. Waterproof Phone Case
If you have a snorkeler or diver on your gift list, get them a waterproof phone case. This is essentially a dry bag for your phone. It fits all phones up to 6 inches.
Just be sure to test the case at home before you go…before you trust it with expensive electronics. (The instructions walk you through it.)
It's just not worth risking your phone on a boat or kayak trip without a dry case.
Get one on Amazon here. And consider getting a flotation strap, too.
44. A Camping Hammock
Every camper needs a fabulous lightweight hammock…whether they're backpacking and sleeping outdoors overnight or enjoying a book with a glass of wine after a day of hiking.
Fox Outfitters' Neolite Double Camping Hammock is not just lightweight, but it's breathable and quick-drying woven nylon as well.
And yet, it can hold up to 400 lbs. Comes in many colors.
You can get a Fox Outfitters hammock on Amazon here.
45. Solar Charger
What's the best way to charge your devices when you're far from wall outlets? A solar charger, of course.
The Nekteck 21S Portable Solar Panel Charger is a favorite of campers and hikers due to its value for the money. Here's why:
It's highly efficient due to the technology of the solar panel cells, it uses smart chip technology to charge up two phones at the same time, it's portable and foldable for fitting easily into a backpack, and it offers an 18-month warranty.
Get the Nekteck solar panel charger on Amazon here.
46. Gecko Waterproof Backpack
If your favorite traveler is an on-the-move adventurer…someone who's likely to be hiking in light rain or indulging in water sports…get them a geckobrands Waterproof Backpack.
This little backpack comes in a wide variety of colors, and as advertised, is fully waterproof!
The whole pack ways less than 1/2 lb. And as a result, it's everybody's favorite lightweight pack to carry essentials like keys, ID, sunscreen, and water to the boat, beach, or pool.
In fact, it's waterproof up to 30 minutes in standing water!
Check price and availability on the geckobrands waterproof backpack here.
47. 1000 Places to See Before You Die
This #1 NYT bestseller is everyone's favorite travel bible to inspire wanderlust! It makes a great gift for everyone from new graduates to those who just retired. It's jam-packed with bucket list travel ideas and adventures.
In fact, many readers keep it on hand for a quick consult before heading to a destination to ensure they don't miss important sites.
You can pick up your copy of 1000 Places to See Before You Die here on Amazon.
48. Ultimate Journeys for Two
Buying for a couple who loves to travel? Here's a unique gift for world travelers: Ultimate Journeys for Two: Extraordinary Destinations on Every Continent.
Chapters are organized by interest area. Browse by mountains, beaches, or desert, for example.
It includes a curated list of one-of-a-kind destinations for couples, along with travel advice from other couples, maps, unique places to stay, and recommended activities.
Give it to your significant other with bookmarked pages (hint hint).
Check out the Ultimate Journeys book on Amazon here.
49. Rick Steves Guidebooks
Is your favorite traveler headed to Europe in the next year? They need a Rick Steves guidebook!
I've been using Rick Steves's books for decades as an efficient way to plan my European travel itineraries and understand the best of what a country has to offer.
I find it particularly helpful that he helps travelers prioritize sites to see with a one- to five-star rating system and offers advice on what to do with fewer days or more days in an area. Best of all, he offers dedicated books for most European countries!
You can check out the extensive Rick Steves library on Amazon here.
50. Travel as Transformation
Travel as Transformation takes you on a journey of both wanderlust and self-discovery through travel.
Author Gregory Diehl challenges readers to consider how travel reshapes identity as he chronicles his own journey from living in a van in Southern California to living and working in 45 countries around the world.
This is a thoughtful deep dive on a topic dear to every traveler's heart. You can get a copy of Travel as Transformation on Amazon here.
51. Dark Skies (Lonely Planet)
Buying for a stargazer? This is a practical guide to astro tourism! A perfect travel related gift. Travel blogger and dark sky expert Valerie Stimac offers detailed guides on 35 dark-sky parks and national parks here.
Learn where to see the aurora, the next decade of total solar eclipse and how to view rocket launches. In fact, the book is divided into sections to plan your dark sky tour. How cool is that?
You can get your copy of Dark Skies on Amazon here.
52… One Last BONUS Idea—VIP Airport Lounge Access
There's no better way to upgrade your airport experience than with Priority Pass (unless you have a first class ticket).
Just flash your pass and head directly to serene, luxe airport lounges worldwide while you wait for your flight…free booze, free food, Wifi, and quiet. Plus, guests visit free.
And, in some cities, you can use them at airport restaurants or for other amenities. I adore my Priority Pass!
I sipped wine and accessed private showers in the lounge in French Polynesia…enjoyed a dessert buffet in Auckland, New Zealand…and am looking forward to the whiskey tasting in Portland, Oregon.
This is a seriously cool travel gift!
Check out the price on all three tiers of Priority Pass here.
Pin it for later!