This article may contain affiliate links. This means that when you click on products we recommend through a link, we may earn a small commission at no cost to you. For more information, please read our disclaimer page.
It's hard to miss the three massive peaks rising from the valley of Jackson Hole, Wyoming in Grand Teton National Park. French trappers nicknamed the Grand Teton mountains "The Three Big Breasts"—"Les Trois Tetons"—with the tallest as "Le Grand Teton." And the moniker stuck. Today, there are so many things to do in Grand Teton National Park! (And yes, you should also visit in winter.)
The Tetons provide a mesmerizing backdrop for everything from bald eagle spotting on a languid Snake River float trip to chaparral trail rides and fly fishing on secret mountain lakes. Everybody still yearns to experience a bit of America's wild west. And it's easy to see why…

Where are the Grand Tetons?
The Grand Tetons are in Wyoming. To be more specific, Grand Teton National Park is in northwestern Wyoming. One of the things people often ask is: "Is Jackson Hole in Grand Teton National Park? The answer is yes! The 40-mile long park (310,000 acres) is unusual in that it remains a mix of public and private lands in a valley that has historically been known as Jackson Hole.
In a series of complex political maneuvers designed to appease conservationists as well as local ranchers reluctant to sell, the federal government settled on a little bit of both.
In practical terms, that means that—for better or worse—visitors can fly directly into the Jackson Hole airport, which is located inside the national park. Alternatively, to save on airfare from points west of the park, Salt Lake City makes a convenient gateway, with a four-hour drive north into Wyoming.
Map of Jackson Hole
Grand Teton National Park Lodging: Where to Stay
Be strategic when choosing Grand Teton lodging (or Jackson Hole lodging). For quick access to sights with fewer crowds, consider booking a few nights at the south end of the park and then a few nights at the north end of the park as we did. (See map above for locations.)
Grand Teton Lodge Company offers a range of accommodations for every budget. Here is the lowdown:
Jackson Lake Lodge
Jackson Lake Lodge is conveniently located in the middle of the park. Obviously, the distance from the Grand Tetons to Yellowstone depends upon where you base. If you stay here, at Jackson Lake Lodge, it's a 45-minute drive south to Jackson, Wyoming and 22 miles north to Yellowstone National Park.
Even if you don't stay here, stop in for a coffee, cocktail or meal to enjoy the mesmerizing view of the Tetons out the lodge's panoramic windows.
Best Parts: The views!
Best for: Both families and couples give this hotel top marks.
Be aware: Hotel rooms are standard fare…not particularly memorable.
Check prices and latest availability here.
Jenny Lake Lodge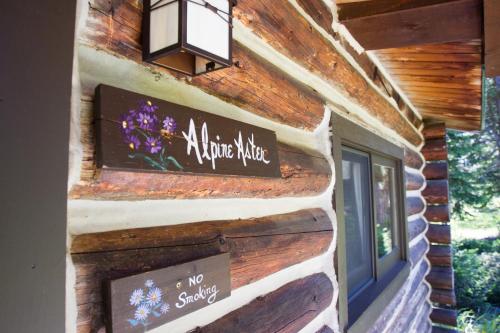 Located south of Jackson Lake Lodge towards the south end of the park, Jenny Lake Lodge offers a luxury experience at the edge of beautiful Jenny Lake. It's one of the best places to stay in Jackson Hole in summer.
The rustic cottages here include custom wood furnishings, rocking chairs on private patios, and a gourmet breakfast. Guests can also choose from on-site activities like horseback riding, a canoe or lake cruise, or bicycles to enjoy the extensive network of trails conveniently close by.
Best Parts: Location, location, location! Jenny Lake, Wyoming is a true treasure.
Best for: Luxury lovers and romantic getaways
Be aware: Parking is not super close to the cabins.
Check prices and latest availability at Jenny Lake Lodge here.
Coulter Bay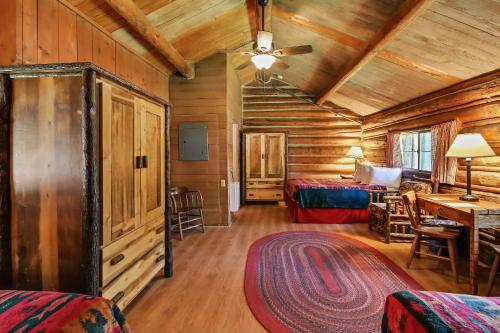 Coulter Bay is another nice central location in the park. It's just north of Jackson Lake Lodge. Some of the historic cabins here come with private bathrooms while others do not. Restaurant on site.
Best Parts: Easy access to on-site activities like kayaking, fishing, swimming, and horseback riding.
Best for: Families with kids
Be aware: Rooms can be chilly. There is no kitchen in the cabins.
Check prices and latest availability at Coulter Bay here.
Headwaters Lodge
We stayed at Headwaters at the north end when visiting Grand Teton National Park so we could reach the south end of Yellowstone without much driving.
The on-site restaurant was good and rooms were clean with comfortable beds. An unbeatable base if you'd like to dip a toe into Yellowstone from Grand Teton National Park without an additional move north.
Best Parts: Convenient location near the southern entrance to Yellowstone National Park
Best for: Families
Be aware: Rooms feel more like standard hotel rooms rather than cabins with character.
Check prices and latest availability at Headwaters Lodge here.
Signal Mountain Lodge
We especially loved our stay at the rustic and renovated 1920's cabins lakeside at the independently run Signal Mountain Lodge in the park.
Cabins are perched at the edge of a lake, the restaurant serves delicious meals, and we saw deer and other wildlife from our cabin window on early mornings.
These historic cabins are brimming with character. However, the double beds are on the cozy and small side so be ready!
Best Parts: Convenient access to Yellowstone National Park
Best for: Solo travelers or couples in love
Be aware: See above. Beds are small-ish!
Nearby Jackson also makes a good base for the south end of Grand Teton National Park. Be aware that Jackson is packed with tourists, however, which also makes it pricey. (But if you are in Jackson, be sure to pick up world-class sandwiches for your next picnic at Pearl Street Market!)
After our drive from Salt Lake City, we spent our first night a bit in the boonies at a lovely Airbnb in tiny Victor, ID and then our final night before heading back in the cutest ever tiny house in Irwin, ID.
Check prices and availability here.
Things to Do in Grand Teton National Park
Wondering what to do in Grand Teton? The beautiful thing about US national parks is that they're designed for everyone to enjoy.
And, just as I did when we visited Volcanos National Park in Hawaii recently, I reflected on the legacy of those who set aside private lands for public enjoyment in such a generous and longstanding commitment to future generations.
As in many of the parks, it's easy in Grand Teton to drive a loop through the center of the park that offers easy access to memorable views, plenty of wildlife, and loads of history. So families with children, those with disabilities, and older adults can take full advantage.
If you're a hiker, however, one of the best ways to maximize your enjoyment while missing the crowds is to wake up at dawn—like the animals do—and head out with your binoculars for prime time viewing of wildlife.
Steve nearly bumped into a full-grown buck getting coffee early one morning!
Insider tip: See popular sites before 9 am. Pack a picnic lunch and then head up to a mountain lake for an afternoon hike. Crowds thin after 5 pm, making the evening an excellent time for seeing more sites.
Without further ado, here are the top things to do in Grand Teton (your Grand Teton itinerary):
1. Hike Jenny Lake
If you're not sure what to do in the Tetons, start here! Scenic Jenny Lake is everybody's favorite day hike. That's why it's so important to arrive early or late in the day (see Insider tip above). Otherwise, you'll wait for parking.
Tip: Don't miss the incredible four mile one-way North Jenny Lake Scenic Drive before or after your hike. The Jenny Lake overlook and Leigh/String Lake trailheads are picnic-perfect!
Start at the Jenny Lake visitor center to snap a photo of the current wildflowers in bloom. They're all posted for easy identification on the trail.
Then you can choose from a variety of short to strenuous day hikes around the lake. For $15 round trip, you can also zip across the lake in the shuttle as we did for a gorgeous day hike.
Wherever you hike in Grand Teton, bring your bear spray! On our hike to Inspiration Point, we rounded a bend to see two ears poking up among the huckleberry vines in a lush valley. We backed away and headed the other direction up to Hidden Falls.
But then, as we approached the falls, we came upon this incredible sight!
This guy was so busy gorging on berries that he didn't even notice us gawking at him.
There were huckleberries everywhere at Jenny Lake. In fact, the air was perfumed with them. (Huckleberry season here is a delight…Think huckleberry lattes, huckleberry smash, huckleberry lemonade and huckleberry pie! If you've never tasted a huckleberry, you're missing out!)
Bear Safety Tips
It was magical to see a black bear in the wild…especially since we were prepared if he approached. Bear spray is not optional for hikers in Grand Teton or Yellowstone National Park.
You can buy it in the park, but since it's illegal to carry it on a flight home, consider renting it for $8 per day at one of the equipment rental companies inside Yellowstone or in the town of Jackson. (Or buy your own for extended hiking trips.) Keep it ready on your belt, not packed away in a pack!
Also, skip the bear bells. They just annoy other hikers and are not particularly effective with bears. If you see a bear on a trail, stop, stay calm and avoid sudden movements.
Back slowly away using a calm tone of voice and never get between a mama bear and her cubs. Don't ever turn your back. (You'll be happy to know park rangers monitor bear activity quite closely here, working hard to keep tourists and bears apart!)
2. Hike Phelps Lake
With 40 million visitors to Grand Teton annually, it's incredible that you can still enjoy a mostly solitary hike to pristine spots like Phelps Lake. It's one of the best hikes in Grand Teton.
Phelps Lake—once home to a Rockefeller family retreat—is today part of the Laurance S. Rockefeller Preserve for all of us to enjoy.
Start your hike at the Preserve Center and then choose from an easy 3-mile loop (the Lake Creek and Woodland Trail), a longer 5.8-mile loop (Aspen Ridge and Boulder Ridge) or the 6.3 mile Phelps Lake trail loop.
All three of these trails meander through sun dappled forests and sagebrush meadows to arrive at the lake for this view…
For a more extensive list of popular hikes in Grand Teton, go here.
3. Take a Grand Teton Tour: Snake River Float Trip
A Snake River float trip is one of the best Grand Teton tours you can enjoy here. Ansel Adams brought the Snake River to fame with his famous shot of the Snake River overlook.
You can see it for yourself on a turnout within the park. Also, don't miss beautiful Oxbow Bend, just one mile east of Jackson Lake Junction in the park!
Look for moose, beaver, river otters, osprey and American white pelican here at dawn and dusk particularly. Mount Moran provides a beautiful backdrop for photos.
But to really get the feel of the river, head out on a sunrise or sunset float trip as we did. We booked our three-hour float trip through Signal Mountain Lodge, where we stayed.
It was quite the experience to see nearly a dozen American Bald Eagles standing sentry on the tops of lodgepole pines dotted all along the river as we floated.
We also saw our share of flat-tailed beavers busy at the river's edge and learned they are "crepuscular," i.e., most active at twilight. During the day, they hole up and sleep it off in their elaborate beaver "lodges."
4. Go Horseback Riding
Get your cowboy on! If ever there were a spot to get out on a trail ride, it's in Grand Teton National Park. It had been more than a decade since the last time I perched on a saddle, but this horseback ride through the morning mist clinging to the forest was incredible!
In fact, the horses were both gentle and responsive. Maybe that's because they are so obviously well-loved. According to our wrangler and guide Caroline, the outfitter that owns them (and manages all the horses in Teton and Yellowstone) can name every one of his 2,000 horses and something about the way each of them rides.
Over the course of our two-hour ride, we crossed the willows, climbing up to Emma Matilda Lake and eventually to this panoramic view, before heading back to the barn where we fed them special horse cookies!
5. See wildlife.
Wildlife is one of the top Grand Teton attractions! What can you expect to see here? I'm happy to report that in August—which is actually the very worst month for wildlife spotting— we saw elk, pronghorn antelope, buffalo, deer, black bear, bald eagles, beavers, swans, and osprey…in addition to the usual chipmunks and squirrels.
What really helped on our wildlife viewing endeavor was heading out on a jeep tour with a guide at sunset through EcoTour Adventures. We learned that pronghorn antelope, for example, are surpassed only by the cheetah among mammals for speed (and that their closest relative is a giraffe)!
Male elk can bulk up to 700 pounds and shed their antlers annually when their testosterone drops. And those horns are heavy! (We lifted a rack for ourselves in a visitor's center.) I'd love to come back to the park in fall and do a snowshoeing adventure to see wolves.
6. Kayak Jackson Lake.
Of the many incredible activities we enjoyed in Teton, our favorite was perhaps kayaking Jackson Lake. In fact, after our experience this year kayaking Doubtful Sound in New Zealand, Moorea in French Polynesia and then Jackson Lake, we finally broke down yesterday and bought our own double ocean kayak for paddling closer to home in San Diego.
It's easy to rent kayaks right at Coulter Bay within the park. And if you arrive early or late in the day, you'll enjoy a blissful paddle past the bird sanctuary and across the lake with only the sound of a honking goose breaking the vast silence as clouds float by. (Don't forget to wear a personal floatation device when you go!)
"The trees, the animals, the streams, the flowers, preserved as much as possible in their natural state of beauty, will in turn help preserve our most precious resource—the human spirit."
—Laurance S. Rockefeller
Like this post? Pin it for later!